Concept of ESCENARIO
It is a smart luxury residence
that combines dignity and modern,
which is the definition of new values.
Among the downtown location,
only the premium brand area is selected.
Here, the house full of intelligence
and sensibility is a suitable place
to play the leading role.
Esencia

Is there sensitivity?
"Comfortable" and "Pleasant"

Essence

Escala

Is there emotion?
"Impressive" and "Surprise"

Scale

Escena

Is there a story?
"Elegance" and "Flexibility"

Scene

Concept of CUADRO
It represents a brand of luxury residences
featuring simple designs
that carry over ESCENARIO's distinctive character.
It properties focus on a premium canvas
that freely expresses the exclusive characteristics
of each location,
drawing out a unique emotion among residents.
Discover residences brimming with intellectual discoveries
tailored to a number of different life stages.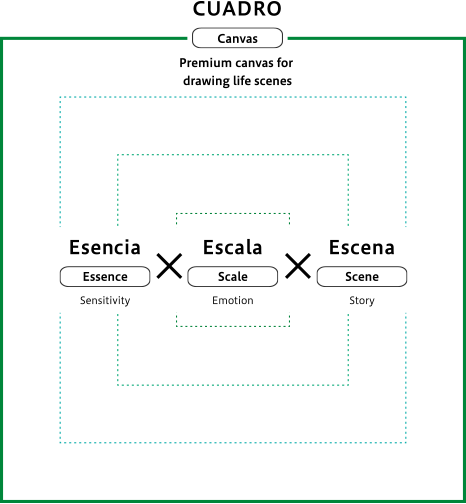 Esencia

Is there sensitivity?
"Comfortable" and "Pleasant"

Essence

Escala

Is there emotion?
"Impressive" and "Surprise"

Scale

Escena

Is there a story?
"Elegance" and "Flexibility"

Scene
Esencia

Essence

Is there sensitivity?
"Comfortable" and "Pleasant"

Escala

Scale

Is there emotion?
"Impressive" and "Surprise"

Escena

Scene

Is there a story?
"Elegance" and "Flexibility"